According to the National Association of Realtors®, June's sales of existing-homes sales hit the highest level in more than eight years, while the combined forces of growing demand and limited supply conspired to move the national median sales price to an unprecedented high. Every major region saw increased sales in June; transactions were above year-over-year levels for six consecutive months.

Total existing-home sales, which tabulate transactions for single-family homes, townhomes, condominiums and co-ops, grew 3.2 percent to a seasonally adjusted annual rate of 5.49 million in June from May's downwardly revised figure of 5.32 million. Sales are now at their highest velocity since February 2007 (5.79 million), and have increased year-over-year for nine consecutive months.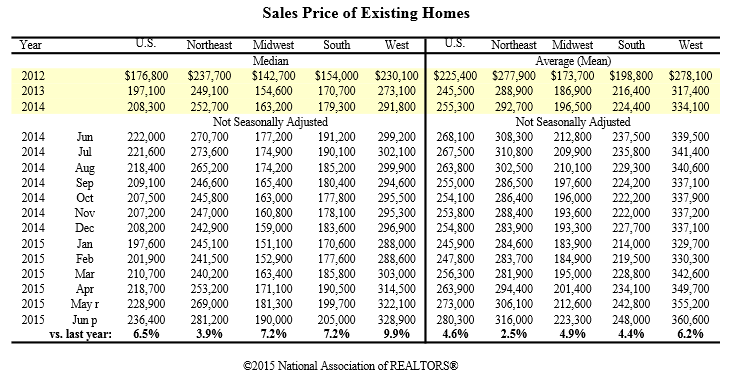 NAR's chief economist, Lawrence Yun, said that this spring's buying season has been the strongest since the downturn. Yun noted that "Buyers have come back in force, leading to the strongest past two months in sales since early 2007." Yun added that "This wave of demand is being fueled by a year-plus of steady job growth and an improving economy that's giving more households the financial wherewithal and incentive to buy."

Yun also suggested that "June sales were also likely propelled by the spring's initial phase of rising mortgage rates, which usually prods some prospective buyers to buy now rather than wait until later when borrowing costs could be higher."

Key Takeaways
The median existing-home price across all kinds of housing in June was $236,400, which is 6.5 percent higher than June 2014 and eclipses the top median sales price set in July 2006 ($230,400). June's price increase also denotes the 40th consecutive month of year-over-year gains.
The percentage share of first-time buyer transactions dropped 2%, to 30 percent in June from 32 percent in May. Nevertheless, it was still at or above 30 percent for the fourth month in a row. A year ago, first-time buyers represented 28 percent of all buyers.
Properties remained on the market for 34 days in June, a drop from May's 40 day duration, representing the shortest duration since NAR started tracking this data in May 2011. Short sales were on the market the longest at a median of 129 days in June, while foreclosures closed in 39 days and non-distressed homes took 33 days. Forty-seven percent of home transactions in June were on the market for less than a month — the highest percentage since June 2013.