Sales of existing homes in December made a noticeable comeback partly owing to delayed closings after the launch of the "Know Before You Owe" initiative. This pushed a portion of November's transactions into December, according to the National Association of Realtors® (NAR). Each of the nation's four major regions saw gains in December.

Total existing-home sales (comprising transactions for single-family homes, townhomes, condominiums and co-ops) grew 14.7 percent to a seasonally adjusted annual rate of 5.46 million in December from 4.76 million in November. Following last month's uptick (the largest monthly increase ever recorded), sales now sit 7.7 percent above a year ago.

NAR's chief economist Lawrence Yun indicated that December's striking growth finished off the best year of existing sales (5.26 million) since 2006 (6.48 million). Yun noted, "While the carryover of November's delayed transactions into December contributed greatly to the sharp increase, the overall pace taken together indicates sales these last two months maintained the healthy level of activity seen in most of 2015." NAR's economist added, "Additionally, the prospect of higher mortgage rates in coming months and warm November and December weather allowed more homes to close before the end of the year."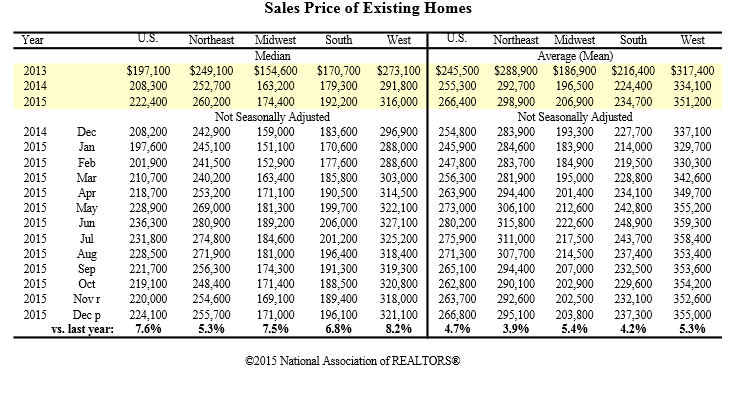 Housing Data Takeaways
December's median existing-home price nationally (for all types of housing) was $224,100, a rise of 7.6 percent over December 2014 ($208,200). This represents the 46th straight month of year-over-year gains.
Total housing inventory by the end of December fell 12.3 percent to 1.79 million existing homes available for sale, and are now 3.8 percent lower than a year ago. There is a 3.9-month supply of unsold inventory at the current sales velocity.
December's percentage of first-time buyers was 32 percent (matching the highest share since August), up from 30 percent in November and 29 percent a year ago.
Data from Freddie Mac shows the average commitment rate for a 30-year, conventional, fixed-rate mortgage remained under 4 percent for a fifth straight month but grew in December to 3.96 from 3.94 percent in November. The average commitment rate for all of 2015 was 3.85 percent.
Distressed sales – foreclosures and short sales – fell to 8 percent in December, down from 9 percent in November and 11 percent a year ago.